---
Local Government
City of Veneta
http://www.venetaoregon.gov/
541-935-1838
Lane County
http://www.lanecounty.org/
Lane County Fire Authority
http://www.lanefire.org/
Oregon Department of Transportation
http://www.oregon.gov/odot/pages/index.aspx
1-888-275-6368
Oregon Dept. of Fish & Wildlife, Fern Ridge Wildlife Area
http://www.dfw.state.or.us/resources/visitors/fern_ridge_wildlife_area/
541-935-2591
Post Office (Elmira)
Website
541-935-1966
88769 Territorial Rd
Elmira, OR  97437-9759
Post Office (Noti)
Website
541-935-7412
22528 Highway 126
Noti, OR  97461-9702
Post Office (Veneta)
Website
541-935-9425
25042 Dunham Ave
Veneta, OR  97487-9791
---
Veneta Nonprofits
Fern Ridge Library
http://www.fernridgelibrary.org
541-935-7512
Fern Ridge Service Center
http://www.midlanecares.org
Main Phone (541) 935-4555
Services provided:
Food Assistance – Senior meals, food bank, family food boxes
Emergency Help – Utilities, necessities, low-income aid and other emergency services
Medical Services – Senior health services, free clinic
Youth Programs – Booster club, toy donation, scholarships
Holiday Programs – S.A.N.T.A. toy donation, Kiwanis Food Drive, Silver Tree senior gift donation
Lane Council of Governments [LCOG]
County-wide comprehensive planning and development, social services
http://www.LCOG.org
541-682-4283
Senior Connections, LCOG Senior and Disability Services, 541-682-3353
http://www.sdslane.org
Meals on Wheels, 541-682-3353
Community Resources – "One stop shop" for senior services, LIHEAP (Low income housing energy assistance program)
Veneta – Fern Ridge Chamber of Commerce
http://www.fernridgechamber.com/
541-935-8443
---
Community Groups
Friends of Zumwalt Park - http://www.friendsofzumwaltpark.org/index.html
Kiwanis, Fern Ridge -  https://www.facebook.com/FernRidgeKiwanis
Lions Club, Applegate Trail – Jane Hatfield, 541-935-6538
Long Tom Watershed Council - http://www.longtom.org
Veterans, Fern Ridge Jack Kelly Post No 9448 – 541-517-6676, PO Box 764, Veneta OR, 97487
---
Tourism & Recreation
Applegate Pioneer Museum
https://www.eugenecascadescoast.org/listing/applegate-pioneer-museum/9969/
541-953-1836
Lane County Parks
http://www.lanecounty.org/cms/one.aspx?pageId=4184656
Oregon Country Fair
http://www.oregoncountryfair.org
Oregon Dept. of Fish & Wildlife, Fern Ridge Wildlife Area
http://www.dfw.state.or.us/resources/visitors/fern_ridge_wildlife_area/
541-935-2591
Travel Lane County
http://www.eugenecascadescoast.org
541-484-5307
Travel Oregon
https://traveloregon.com/
1-800-547-7842
---
City Maps
http://www.venetaoregon.gov/planning/page/city-maps
Relocation Packet Map
https://drive.google.com/open?id=1OPx5HCa0Cusk7fh6xowO0ZMTvoc&usp=sharing
---
Schools and Sports
District Office
Fern Ridge School District - http://www.fernridge.k12.or.us/
Elementary School
Applegate Elementary School – http://www.cal.k12.or.us/aes/index.html
Elmira Elementary School - http://www.fernridge.k12.or.us/elmiraele/
Veneta Elementary School - http://www.fernridge.k12.or.us/venetaele/
Middle School
Fern Ridge Middle School - http://www.fernridge.k12.or.us/fernridgems/
High School
Crow Middle and High School http://www.cal.k12.or.us/cmhs/index.html
Elmira High School - http://www.fernridge.k12.or.us/elmirahs/
West Lane Technical Learning Center http://www.westlanetech.org/
Youth Sports
Territorial Sports Program - http://www.territorialsportsprogram.net/
---
Transportation
Veneta is located on the intersection of Highway 126 and Territorial Highway, making it Eugene/Springfield's gateway to the Coast Range. It is approximately a 20 minute drive from the heart of the metro area to Veneta.
Recently, Lane Transit District [LTD] added a new bus service that connects Veneta to Eugene Station, and passengers of the Emerald Express bus rapid transit system. Buses arrive from the Eugene/Springfield metro area approximately once and hour between 6 AM and 11 AM and between 2:45 PM and 8:30 PM on weekdays. For more detailed information please visit LTD's website for routes and schedules:
https://www.ltd.org/system-map/route_93/
---
Community Profile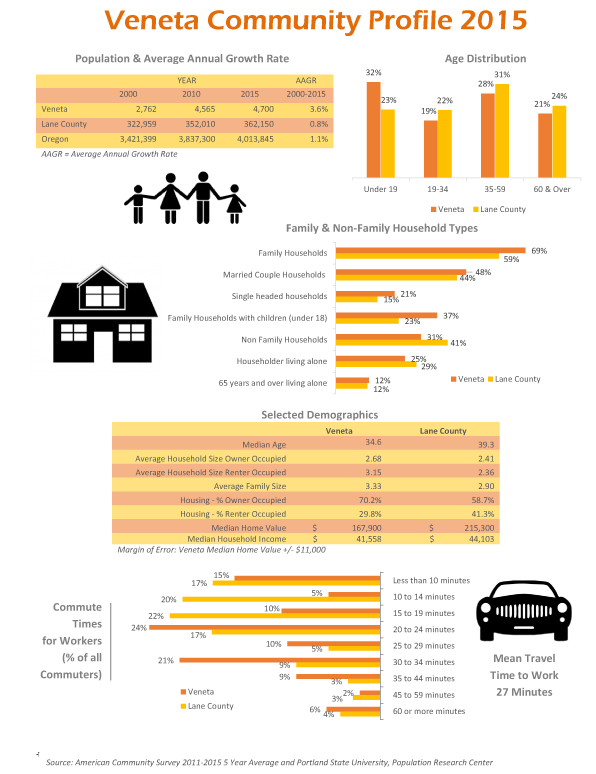 Source:  http://www.venetaoregon.gov/community/page/community-profile
---
Things to Do
Information from Travel Lane County https://www.eugenecascadescoast.org/veneta/
Sail Fern Ridge Reservoir
Paddle Coyote Creek
Orchard Point, Zumwalt Park, Perkins Peninsula Park
Veneta City Park and Community Center, Veneta Community Pool
Oregon Country Fair
Wine Tasting
---
Local Events
Below are resources to discover the wonderful events that happen in Veneta throughout the year.
City events calendar
http://www.venetaoregon.gov/calendar
Chamber calendar
http://www.fernridgechamber.com/?q=calendar
Annual Events
March or April: Easter Egg Hunt, Local Business Showcase, Earth Day
May: Downtown Farmers Market Opens
July: Oregon Country Fair
September: Harvest Festival
October: Fall Arbor Day Event, Farmers Market closes
December: Holiday Light Parade, Tree Lighting Celebration
See http://www.venetaoregon.gov/community/page/events for a detailed description.
---
Community News Organizations
Below are some of the news organizations that operate in the Veneta community.
The Fern Ridge Review
Local news and advertising. Home delivery is available. Also available for purchase at selected locations in the Fern Ridge Area. The paper's focus includes local news and events, and features from smaller communities in West Lane County.
Fern Ridge Review in Veneta, Oregon delivers "Local News About Local People". Veneta-Elmira-Noti-Walton-Blachly-Alvadore-Triangle Lake-Crow-Lorane-Chesire
https://www.facebook.com/Fernridgereview/
The Register Guard
Newspaper for Eugene, Springfield and surrounding communities.
http://registerguard.com/rg/news/
92.5 KOCF Radio
92.5 KOCF is a community supported radio station serving the Veneta, Elmira and Crow communities and streaming globally at kocf.org.
http://www.kocf.org
---
Utility Providers
Water & Sewer Service
City of Veneta – 935-2191
Click this link to be redirected to the Utility Billing Page
Electric Utilities
Emerald People's Utility District – Power  – http://www.epud.org/
Lane Electric Coop – Power –  http://laneelectric.com
Television
Charter Communications - https://www.charter.com/browse/content/charter-home
Phone & Internet
CenturyLink - http://www.centurylink.com/
Garbage and Recycling
Garbage collection service within the City is provided through an exclusive franchise agreement with Sanipac. Please direct all questions regarding garbage service to Sanipac, (541) 935-1319, or visit their website at  http://www.sanipac.com
For information on Lane County Transfer Sites available to drop off recycling, please follow this link
https://lanecounty.hosted.civiclive.com/cms/One.aspx?portalId=3585881&pageId=4225287
Household Hazardous Waste disposal information can be found here
https://www.lanecounty.org/cms/One.aspx?portalId=3585881&pageId=4238900
---
Strategic Employment Sectors
While Veneta is interested in working with a broad range of businesses, previous efforts identified specific "target" industries. Veneta chose the targeted industries by identifying industries that are viewed as a good fit for the area and that might consider Veneta a good fit given the City's comparative advantages. The industries that fit with the Community's aspirations for growth and identified as having growth potential in Veneta are:
Food Processing – with a focus on specialty items
Professional, Scientific, and Technical Services – focus on high-tech
Secondary Wood Products – focus on niche markets
Small-scale or Specialty Agriculture including Greenhouse, and Floriculture Products
Tourism and Wine industry
–Veneta Economic Opportunity Analysis, 2015
---
Business Development Services
This section discusses the public and private business development opportunities available in Veneta and the surrounding community.
City of Veneta Business Toolkit
The City of Veneta provides a number of services for local businesses:
http://www.venetaoregon.gov/ed/page/incentive-programs
Veneta Business Registration
Note that businesses operating within the Veneta City limits are required to register their business. The current fee is $25.00. Please see complete rules and details under City of Veneta Municipal Code Chapter 5.05. The form is available here:
http://www.venetaoregon.gov/sites/default/files/fileattachments/business_registry/page/912/business_registration_application_fillable.pdf
For more information please visit:
http://www.venetaoregon.gov/business
State Toolkit
To start a business in Oregon, the Oregon Secretary of State office provides approachable resources for would-be business owners
Business Name Availability Checker
http://egov.sos.state.or.us/br/pkg_web_name_srch_inq.login
Business Registration with Oregon Secretary of State
https://secure.sos.state.or.us/cbrmanager/index.action#stay
Oregon Business Startup Toolkit
http://www.oregon.gov/business/Pages/toolkit.aspx
---
State and Regional Economic Development and other Business Services
Business Oregon
http://www.oregon4biz.com/
503-986-0123
Community LendingWorks
http://www.communitylendingworks.org/
541-345-0446
Lane County Small Business Development Center
http://lanesbdc.com/
541-463-6200
LCOG Small Business Assistance and Development Center
http://lanesbdc.com/
541-463-6200
Neighborhood Economic Development Corporation [NEDCO]
https://nedcocdc.org/
541-345-7106
Oregon Microenterprise Network
http://www.oregon-microbiz.org/
Regional Accelerator and Innovation Network [RAIN] – Eugene, University of Oregon
http://raineugene.org/
RAIN Mentor in Residence program
From 4 pm to 7:30 pm on the fourth Tuesday of every month, the Veneta-Fern Ridge Small Business Assistance Center hosts the RAIN Mentor in Residence. The Mentor is available on a drop in basis for FREE to answer business development questions. Some sample areas of expertise are: Social media and marketing, turning an idea into a money-making business, writing a business plan, acquiring capital, among many more.
Small Business Innovation Research
http://www.sbir.gov/contact.htm
http://www.sbir.gov/solicitations/
USDA Rural Development Business Programs
http://www.rurdev.usda.gov/or/rbs.htm
US Small Business Alliance
http://www.sba.gov/localresources/district/or/index.html
---
Financial Advising and Banking
Banner Bank
Contact your local branch for details.
https://www.bannerbank.com/locations/veneta
541-935-4141
Key Bank
Key Bank's success, and the success of our communities, are one in the same. We believe that, collectively, our employees create a company with heart.
https://locations.key.com/or/veneta/88140-territorial-rd.html
541-935-6280
---
Professional Services
Computer Repair
Michaels Computer Services
Professional computer repair, parts sales, web design, web site hosting, new custom computers, slide and negative scanning, tutoring.
Owner: Michael Hanson
http://www.michaelscomputerservices.com/
Customer Service and Business Process Solutions
First Call Resolution [FCR]
FCR is the premier provider of outsourced live agent call center and business process solutions. We provide a wide range of outsourced contact center, business process and social networking solutions to industries that include the high tech, internet, e-retail services, telecom, healthcare, finance, travel, transportation, insurance and various sectors of the new economy.
http://www.gofcr.com/
Insurance
Pacific Hometown Insurance Agency
Pacific Hometown Insurance provides professional assistance and home-town service. As an independent agency, they can offer service to just about everyone. Whether you are looking for insurance for your car, your home, rural property, rental house, farm, or business, you can find it here. And if you need health insurance, workers comp, bonds, disability or life insurance, please call them at 541-935-8801.
Owner – David Grossnicklaus
denae@pacifichtinsurance.com
Tracy Baier Agency – American Family Insurance
A dream is the most valuable thing you will ever own. Let American Family Insurance help protect your dream. Please give me a call – I'm here to meet your unique insurance needs.
Home, Farm, Small Business, Commercial, Flood, and Life Insurance. We protect your dreams by managing your everyday risk.
http://insurance-agency.amfam.com/OR/tracy-baier/
Signage
Signature Signs, INC.
We welcome your call to see how we may help you with your Signage needs!
Vehicle Lettering – Vinyl Graphics – Architectural – Real Estate – Construction – Magnetics – Windows – Residential – Boats – Banners – Safety Labels and More!
http://www.thesignofquality.com
---
Veneta-Fern Ridge Chamber and Member Services
The Chamber and its members offer a variety of services of business owners in the Veneta area.
Chamber Mission: The Veneta-Fern Ridge Chamber of commerce is organized to connect commerce and community support agencies while promoting and coordinating efforts in commerce to create and maintain a healthy business climate that enriches the lives of those in the community.
To join the Chamber please go to
http://www.fernridgechamber.com/?q=node/24
Questions can be submitted to staff@fernridgechamber.com
541-935-8443
Small Business Assistance Center [SBAC]
Chamber members have up to 5 free hours of use, and non-members pay $20 per two hours of use. Using the Center is FREE if you are meeting with one of our partnered service providers – Community LendingWorks, RAIN, or LCC SBDC. Users have access to a PC; iMac; printer; HD screen for presentations or teleconferences; and a conference space.
To register, visit the Chamber in person or email staff@fernridgechamber.com.
---
Real Estate
Below is a listing of realtors, available land, and other real estate agencies or developable land in Veneta
Available land in the Northeast Employment Center [NEEC]
The NEEC is Veneta's premier development ready site of industrial, commercial and business property. The city of Veneta is planning to route high speed broadband fiber internet to the NEEC and associated business park by late 2018. For more information see the following link:
http://www.venetaoregon.gov/ed/page/available-land-northeast-employment-center
Realty Companies
Fern Ridge Realty
A Full Service Real Estate Office
Thomas Cotter – Broker, Owner
Please contact us for your Real Estate needs
thomascotter@msn.com
Kari Shoemaker – Elite Reality Professionals
I specialize in buying and selling homes throughout Lane County!
If you are a buyer or seller who lives in the area or if you are looking to relocate to our area, I am happy to assist you! Real estate is one of the largest and most exciting investments one can make. I am here to make sure that your process is a fun and rewarding one! My website is geared toward our local areas, and also surrounding communities such as Veneta, Harrisburg, Junction City and Coburg. Please don't hesitate to contact me with any questions.
http://www.karishoemaker.com
Red Barn Properties
We specialize in West lane country real estate. Homes, building lots, commercial property, acreage, ranches, timberland. – Mel Purvis, Owner
http://www.redbarnoregon.com
---
Lodging
Catbird Seat Bed and Breakfast
Southern-style bed and breakfast
541-953-7851
http://www.thecatbirdseatbandb.com/
Fair Haven Bed and Breakfast LLC.
Cottage style bed and breakfast
541-935-1055
http://www.fernridgechamber.com/?q=node/780
Yurtle – Veneta
Yurt-style Bed and Breakfast
541-935-2663
http://www.yurtle.net
---
History: 100 YEARS A TOWN, 50 YEARS A CITY
By Mayor Sandra Larson
August 2012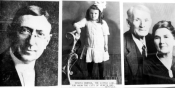 In 1912, Edmund Hunter platted a town on what some sources say was forest land and others describe as a brush-covered goat farm. What is known for sure is that Hunter traded his farm in the Central Road area for the nearly 1100 acres then owned by John McCutcheon, because he preferred real estate to farming. Hunter sold a half interest in the real estate venture to Charles Dunham, who named the town Veneta after Hunter's youngest daughter. Hunter and Dunham foresaw growth and prosperity for the city, situated on the railroad being constructed from Eugene to the coast. To encourage business development they gave three lots to anyone who would start a business in the town.
In 1962, that town became the tenth incorporated city in Lane County by a vote of 211 to 168, largely through the efforts of the Board of Directors of the Veneta Improvement Association (VIA), a group originally formed in the late 40s to coordinate community volunteer efforts to build a gym at Veneta Elementary School. This was actually the second incorporation election. The first held the previous August, ended in a 147 to 147 tie after two votes were invalidated.
The impetus for incorporation was the need for clean water, unpolluted by septic systems. The community's wake-up call was a series of hepatitis outbreaks that sickened many, including VIA member J.W. "Bill" Smigley and his daughter. Smigley and his fellow VIA directors realized that the community needed a good water system. The group considered forming a water district, but decided to go one step further and create a taxing entity.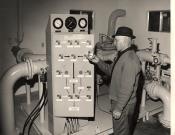 In 1961, VIA president Ralph Johnson wrote, "My fellow citizens. In the main we feel that our most pressing problem is that of obtaining a healthful supply of water for domestic consumption." That hasn't been easy to accomplish, but many bond issues later, Veneta now enjoys state-of-the-art water and sewage treatment. Water continues to be at the top of the city's concerns as it prepares to build a pipeline to bring McKenzie River water from Eugene to Veneta.
The very first issue of the West Lane News appeared on June 29, 1961. On the first of its four mimeographed pages, founder and editor Archie Root editorialized, "Incorporate Veneta."
In addition to clean water he listed a dozen other reasons to support incorporation, including gas and liquor tax revenues, reduced fire insurance rates, street improvements and police protection. A $25,000 gift to establish a public library was conditional on the city being incorporated.
Fifteen candidates ran for the first Veneta City Council, which is probably a record. Many said they chose to run because their friends had urged them to do so, or because it was their civic duty. Shoemaker Frank Faust said he was running because "I think this community has crawled long enough. It is time it got up and walked." Faust wasn't elected in 1962, but he served as the city's first budget commissioner and was elected to the council in 1976.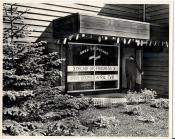 The top vote getters in the 1962 election were all movers and shakers in the VIA: Ralph Johnson, Wayne Elliott, Bill Smigley, H.R. Oglesby and Richard Gutman. The council met at the Western Lane Protection Association offices until the city hall at 4th and McCutcheon was completed in 1967. Johnson was chosen by his fellow councilors to be Veneta's first mayor. He was succeeded by Gutman who was followed by Smigley.
Upon Smigley's retirement in 1996, Veneta elected its first woman mayor, Galen Carpenter. Carpenter was followed by Tim Brooker who served for ten years. Brooker retired in 2008 and mayor Sharon Hobart was elected who later retired in 2012.
It is interesting to note that 88.1 per cent of the electorate voted on incorporation in the April election, but only 47.4 per cent voted in the June council election. At incorporation the population was 1,123. Today, it is just under 5,000.
In 1962, there was already a Fern Ridge School District, a Veneta Fire Department, a Veneta Garden Club and a Fern Ridge Reservoir. According to the West Lane News, there were 350 houses in the city, plus eight churches, three service stations, two restaurants, two grocery stores, two electrical appliance stores, two radio repair shops, one meat locker and two operating sawmills–Blek's and Johnson's.
There was also a hardware store, a second-hand store, a tailor, a beauty shop and one real estate agent. Two doctors and a dentist served the new city, which also had a flower shop, a tire repair shop, one tavern and one trailer court. There were two parks and a swimming pool, which was about 75% constructed. The city would complete the pool after it and the two parks were deeded to it by the VIA.
The city's first two-year budget was approximately $8,800. On its first anniversary, Mayor Johnson proudly exclaimed, "We have $11,000 in the bank and we're not obligated to anybody."